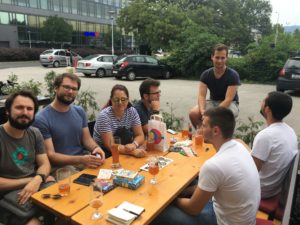 TL;DR
This blog post is about my learning experience at Testival #40 game and beer session meet up.
By the name of this meet up, you could got impression that there will be no learning opportunity, but with my Moleskine notebook ready, I will prove you wrong. We started with usual introduction, and since there were 8 attendants, that was quick activity.
We met at Fakin Craft bar, and Tentamen was pizza and beer provider. Unboxed conversation started, so here are my notes:
Card Game Math Fluxx by Loony Labs. I am in love with this game. I have already wrote about it in my previous post. This instance is based on Math. I love Math, and based on Math Fluxx (good domain knowledge) I finally grasped Fluxx rules! Hurra!
Untapped. If you are into craft beer, this is app for you. You can create check in that describes your craft beer experience. I am currently at 700 distinct beers, my username is karlosmid, feel free to add me as a friend.
I had following beers:
Hill 438 by Nova Runda
Ringišpil by PriMarius craft pivovara
20th Anniversary Encore Series: Stone 02.02.02 Vertical Epic Ale by Stone
BrewingWeihenstephaner Braupakt by Bayerische Staatsbrauerei Weihenstephan
Marko tried to installed untapped, and basic authentication is using Facebook. He did not like app permission to his Facebook account, so he decided to first create untapped account through web app. Alternative flow is king!
I mentioned to Marko that I currently read Theory of Fun for Game Design by Raph Koster. For example, I like description of evolution of shooter games. First we had Space Invaders, enemy was coming top down, then we had Scrambler, left to right scrolling, the we had Asteroid, enemy was attacking in circles, and so on.
Games mentioned:
There is Chrome extension Stylish. You good easily restyle your popular web app, like github. But it was bought by dark force and used for user analytics.
We played Math Fluxx, but we were warned (as we are in Croatia, we have law against everything) that playing card is not allowed. I am sure that only playing cards for money is forbidden, but I understand the stuff was worried because Croatian bureaucracy unmatched Douglas Adams fictional world of bureaucracy.
That killed the mood. We stared talking about automatization in cars. Nissan Leaf have a driving assistance that wakes you up if you fell asleep while driving. There is a Nissan service if you run out of electricity, they would came with special van that can fill you up with juice. And electric car must produce sound for speeds under 40 km/h because pedestrians are used to engine sound.
Every car has a switch in review mirror, for night drive, so headlights of cars behind you do not dazzle you. Now car switches review mirror automatically to night mode. And windshield wipers turn on automatically when rain starts, this is 10 years old technology!