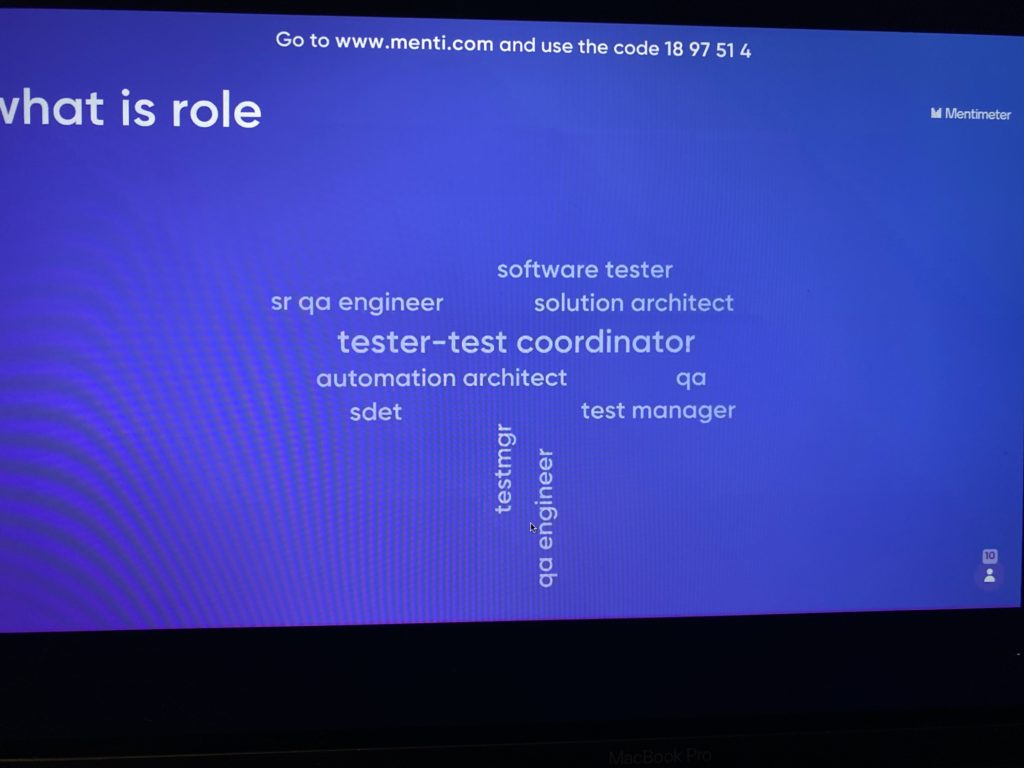 TL;DR
In the previous post, we gave a report on the Observability for Performance Testers by Mark Tomlinson. Today we present Lisette Zounon, Debunking the QA KPI Myths and making KPI great again. How observability IS different from monitoring.  When it comes to software quality, KPI metrics can become a myth. Lisette will try to debunk that myth.
Takeaways
When it comes to software quality, KPI metrics can become a myth. Sometimes it works, sometimes you miss it. Attendees in this session will take away: Determine the purpose of the QA KPI for your needs. Adapt the KPI Metrics to your organization's culture. Practical QA KPI metrics that bring value to everyone in the organization for the project's health and the team's health. Determine QA KPI Metrics for QA team only Define QA KPI metrics for your product quality health.
Define KPI
It all starts with defining the KPI for your organization. Lisette started the story on how to do that.
What Is Your Role
Lisette started making her's presentation fascinating from the beginning by requesting feedback from the audience. How to get audience involvement in the remote presentation? With menti.com. You get a number that is related to the current question. On menti.com, you enter that number and your question. The facilitator can watch all the answers on a dedicated panel page. Simple as that. Our first question was, What Is Your Role? You can see some of the answers in the above screenshot. Most of the audience was from QA.
Audience KPI's
What do we measure in our organizations: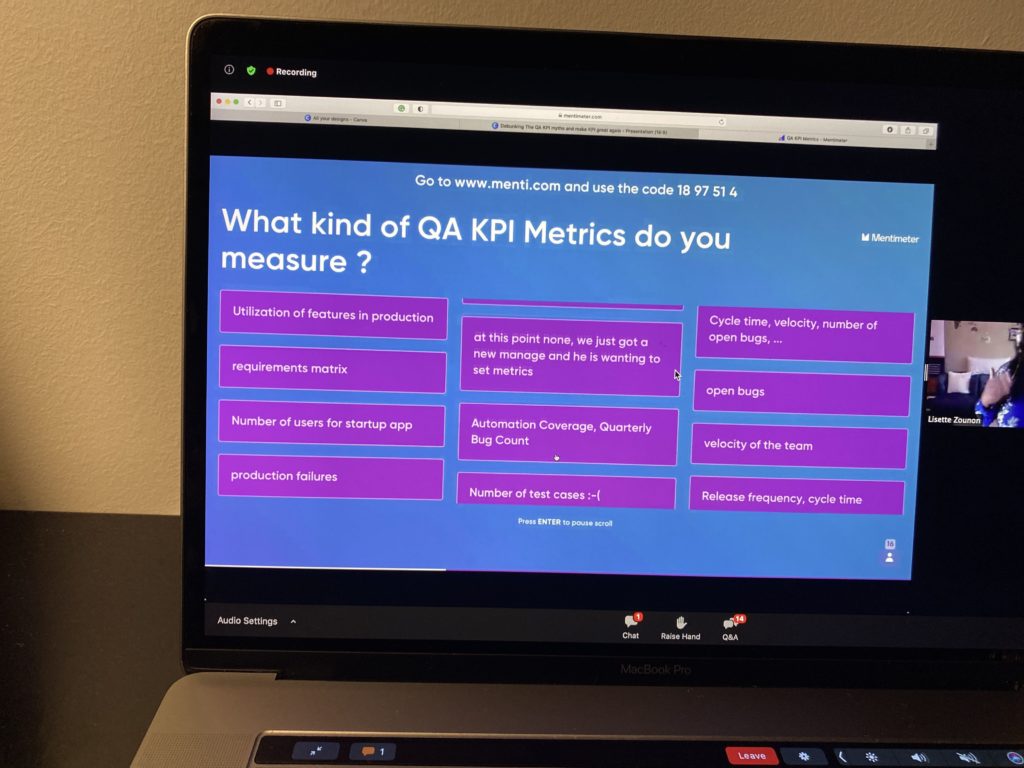 KPI Myths
Here are some of the audience KPI myths in Menti.com: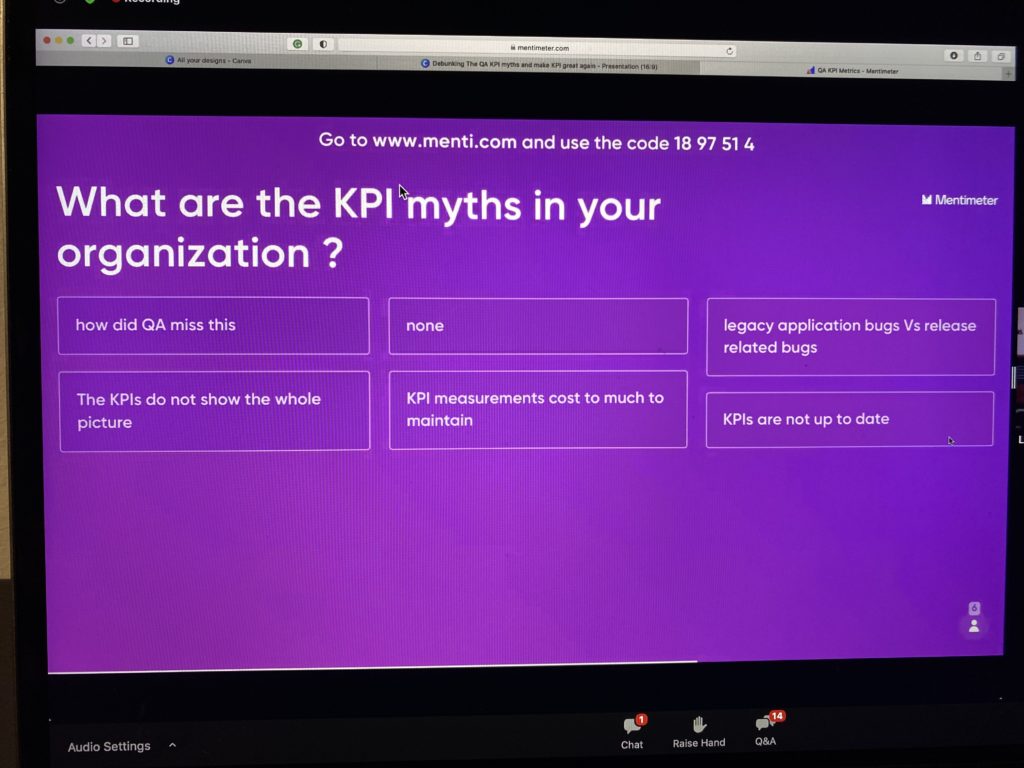 How To Start With KPI
First, try with a KPI Demo for the organization. Start with the Why? Why we want this particular KPI? The second ingredient is the KPI audience; who is interested in this KPI, team member, manager, or team leader? Team culture is critical in creating KPI.
QA KPI
KPI is a team activity. Start with the QA Score Card: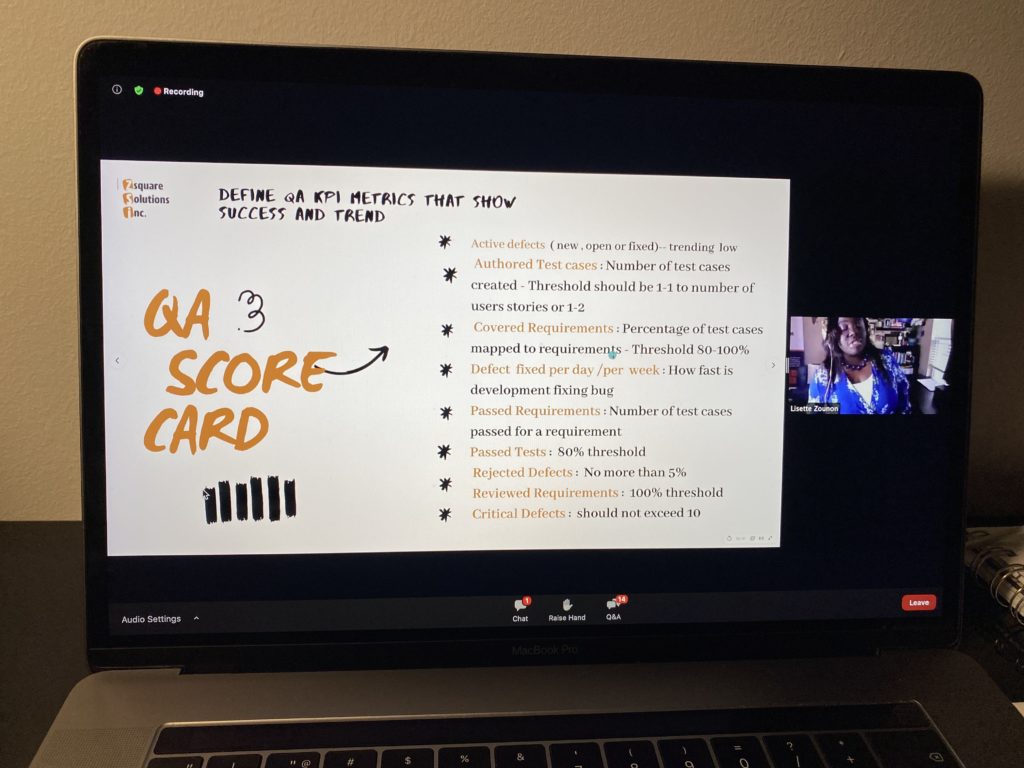 Based on that team QA Score Card you can pick one Demo KPI. Create for that KPI a Dashboard because that would increase KPI team visibility. When you set proper QA KPI in your organization, you will get the following team benefit:
Benefit team engagement strive to common goal
Q&A
Here are some of the audience questions. KPI visibility includes easy accessibility. You do not need special system privileges to get the KPI. A list of No Go and backfire KPI should be established by the team. Those KPI could cause more damage than benefit. Rejected bugs are valuable KPI. And do not link KPI value with the specific person! This is the mother of all backfires KPI's!
Testivator Session Score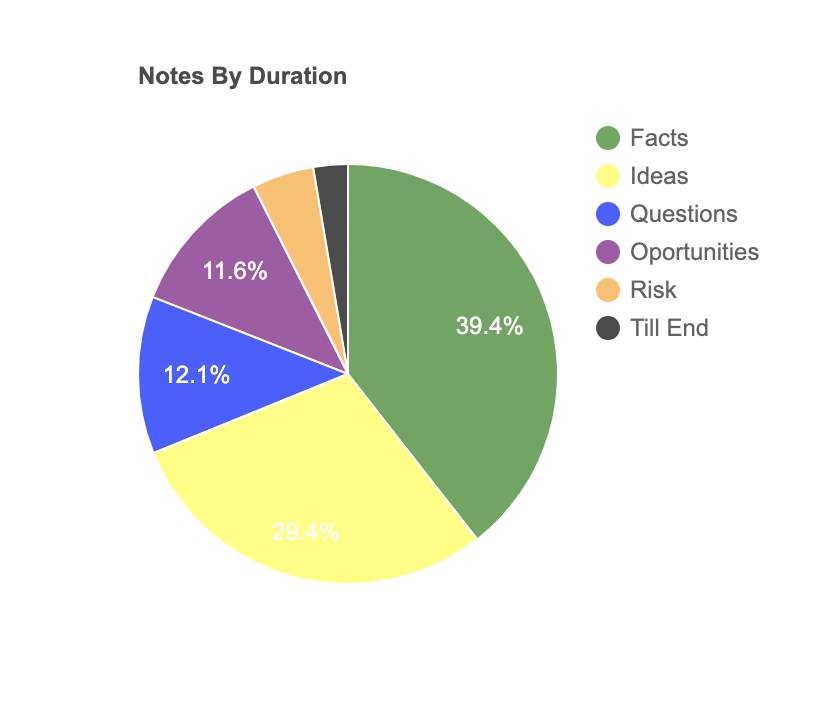 For this session, I was using the Testivator Mobile application. I took 26 notes and 5 screenshots.
Here are note types by duration. Till the end is 2.7 %, and it is the ratio of duration from last note to session end and session duration.