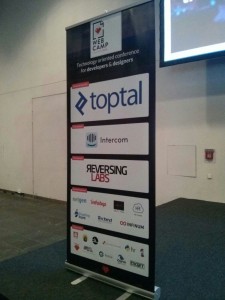 WebcampZG 2015 sponsors and organizers
TL;DR
This week it was time to give something back to the community from which I have learned a lot. I volunteered for the role of room keeper at WebCampZG 2015 conference. Zeljko Filipin and I organized Zagreb Software Testing Club meetup #22!
WebCamp is community oriented conference. And Zagreb STC community joined this effort. And that was official, at the bottom of this picture there is Testival.eu logo. They even made Testival.eu stickers! Role of room keeper is to announce the speaker, run around the hole with microphone during the QA session, and the most important, to keep track of session time. I had printed sheets with numbers 10, 5 and 1 which I had to put in the air to notify the speaker how much time is left for his session.
Regarding the content, every session was filmed and I will post the update with the link. I was not present because of my room keeping obligations, but community decided that best talk was by Damir Svrtan: Stop wasting time NOT writing tests. Tests are automated tests in the context of writing code. I like that community scratched the surface of the problem that there is lack of professional software testing in software development.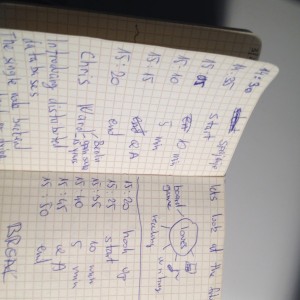 Room keeper notebook.
On the left is my notebook with my notes about each session that I was keeping.
At Zagreb STC#22 held at Mama we had 13 attendants! Almost a record. I think that involving in Webcam ZG organization helped us to spread the word about our meetup.
The theme of this meetup was the tester role in software development process. Martina Bettini presented her's experience as a tester in various software development projects. Challenges how to transition to Agile from traditional waterfall process. We talked about 40 agile methods, poker voting and multifunctionality.
During the break and afterwards over a beer in Koldig, I also noted following discussions:
performance testing of Rails application, unit testing of Ruby code, Docker, application from health domain, game application testing. In Mama bookshelf I noticed interesting book: The Tao of network security monitoring, beyond intrusion detection. And what testers do in pub over beer? They create real mindmaps!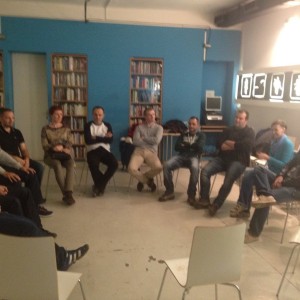 Introduction and what I tested last week.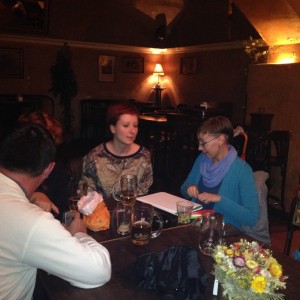 Iva is always ready to create some mind maps on real paper sheet!