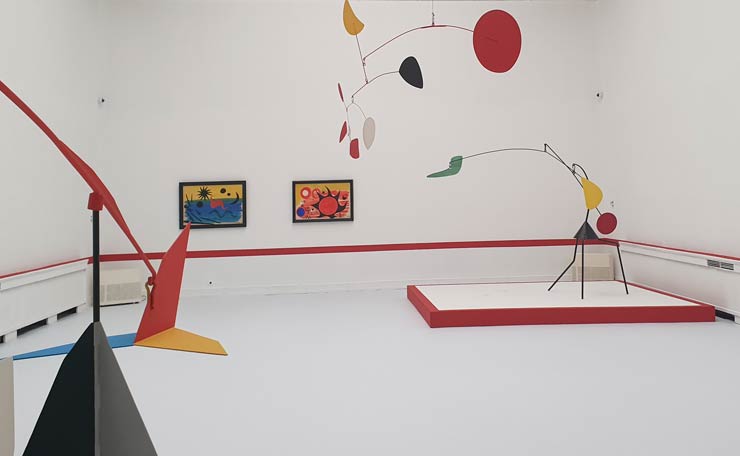 TL;DR
Calder is the most famous American sculptor, and 35 of his pieces are in Zagreb. This Saturday afternoon was reserved for Calder, here is my learning experience and one unexpected business alternative flow.
My first live Calder experience was in New York's Moma. Zagreb exhibition had 35 different pieces, because Calder was very productive, 16 000 pieces in total during his lifetime!
First, I will explain the exhibition ticker alternative flow. Art Pavilion is state-owned, so you can get discounts on various flows. As I entered the Pavilion, I noticed a group of mostly senior ladies. They approached me and asked me may I be part of their group. The trick is that they are members of non-profit organizations and they have a discount for a group of their members. One member did not show up, so I filled her spot. My benefit was cheaper ticker and free guided tour. The tour guide noticed the scam and did not allow it. We waited for some time, ladies were persisted, and the manager allowed alternative flow (aka Croatian scam).
Calder created mobiles and stabiles type of sculptures. In the photo above, one mobile is hanging from the ceiling, and two stabiles are on the flor. Mobiles are constantly in movement by airflow, and stabiles also have moving parts. It was not allowed to move them. His most famous stabiles are outdoor exponents and they have giant proportions. You enjoy stabiles and mobiles by observing them from all directions, and it is possible to observe mobiles below them because they are always hanged on the ceiling. Every mobile and stabile has assembly instructions. Calder education also took alternative flow. He finished Stevens Institute of Technology in Hoboken in New Jersey. After that, he studied art. My heuristic is that this is one of the reasons why he created mobiles and stabiles.
Calder also painted. In the above photo, you can see paintings created with gouache, a thick, opaque watercolor paint made with gum containing an inert white pigment to make it opaque. The gouache important feature is that those paintings take less time than oil paintings to get dry. So Calder was able to produce more paintings.
He also produced toys (he created Circus) and jewelry because he was very handy with wire and pincers. He liked iron, but during WW2 he switched to wood because iron was redirected to the military industry.
His favorite color was RED.