TL;DR
One example with an issue in context of Uefa.com site.
Yesterday was kick off day for Uefa 2016 Championship. Great time for football fans but also some opportunities for software testers.
This morning I checked uefa official site and clicked on today's featured video. Here is the page: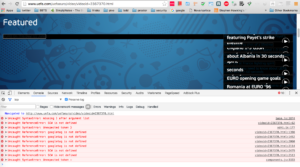 Feature is broken on latest Chrome and Firefox.
Using Chrome developer I found out:
that site is using Javascript
as issue is active for 12 hours, UEFA is putting all their horses on TV rights income
on uefa.com there is no info how report an issue. I will use twitter hashtag #euro2016.
Go Croatia!