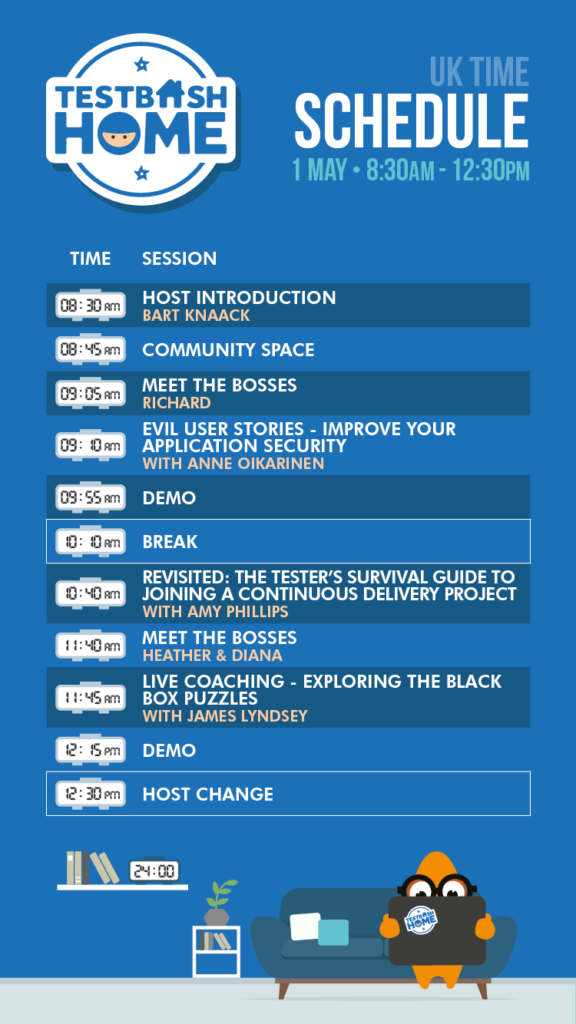 TL;DR
This is my QA on technical aspects of TestBashHome 2020, Ministry of testing first online event of that size.
On April 30th, at 8.00 pm UK time, the first TestBash Home event started. As this post is about issues that I have encountered, I would like first to acknowledge the TestBashHome team for their great effort in organizing this event. I am satisfied with the overall experience, and those issues have not been in any way an obstacle in my learning experience.
The Time Schedule
The schedule was posted soon before the event, on the Ministry Of Testing Club. For me issue was that the scheduled timetable was "hardcoded" in UK time, which is GMT+1. The second thing is using 12-hour clock notation am/pm, which is only used as the standard in the UK, USA, Australia (and probably some other western countries). I really do not know when it is 12am and when it is 12pm. TestBashHome is a global event, and having a dynamic schedule timetable that would be shown based on user browser timezone would be great. I think that 24-hour time notation would not be a problem for Western countries, and it would help a lot of participants from other countries.
Having a timetable in one continuous image or web page would also be an upgrade because it would be clear that this is a 24-hour event.
So I was online one hour before the start, and I did not realize that I would miss part of the event between 0:00 and 8.00 in May of first.
The Platform
Ministry of Testing chose platform was Crowdcast. I have never heard of them before. My only problem was how to get into the cast session. Ministry of testing sent detailed information in an email, with cast link and session password. After you click on the link, you landed on the Crowdcast page with a small password input box. I pasted the password, but there was no send button. You need to hit the enter, not a usual flow compering with other similar products. But after hitting enter, nothing happened.
I noticed below the password input a sign-in link. I clicked and entered the email that I used when I bought the ticket. Crowdcast sent me on that one-time email sign-in the link (no password authentication). Clicking on the link, you are signed in to Crowdcast, and now you can use event link and password.
It would be beneficial that sign-in was mentioned in the Ministry Of Testing email.
The security issue is that the Crowdcast sign-in link does not expire, which is a security issue. You can use it repeatedly.
Everything else related to the platform worked. Buffering was minimal, sound quality did not cause information loss. The platform offers English subtitles. I am not sure if this is automatic, but it works.
Conclusion
TeshBash Home is good to go. It will set a new standard for offline conferences in these trouble times!