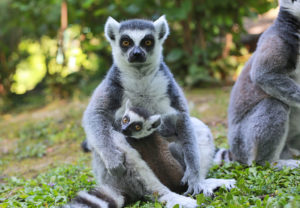 TL;DR
This week I visited Zagreb ZOO. I do it once a year because renovation is in progress, new animals arrive, and most importantly, I always miss to spot some animals.
It is common to miss to spot animals at every ZOO. Either they do not like to be seen, so they hide in their habitats.  For larger species, I usually come back at their habitant to try my lack again. But for smaller species? They hide behind a rock, or even better, they use their natural camouflage. So for those species, I use the following heuristics:
Listen to other visitors that are also looking for small species, when they found them they usually point to them!
Check info cards about species to see how they actually look. Very important for rare species. Get to know their camouflage.
Come back later.
Come back another time.
Ask for help from professionals who work there.
Most importantly, be noted that you are an intruder into the animal's home. Some of them are more used to be around people, but some still need their privacy. Do not bang on the glass, or make a loud noise calling them. I saw a chimpanzee eating. It looked a hideout to finish its meal in quiet. I immediately walked away to give him his peace!