TL;DR
Last Tuesday, we had our Testival #60 Online Edition Meetup. We had one talk, Leveraging your testing power with Xray – Sérgio Freire, Head of Solution Architecture – Xray, and one lighting talk.
Motivation
This was our second online meetup, and the context changed. Now we can invite testers around the world! The motivation for this meetup was straightforward. At almost every previous Onsite meetup, an X-ray tool pops up in the question or conversation. We had an X-ray talk previously at Testival #51, and it seems that since then, XRay got popular among Croatian software testers. So I invited Sergio to give a hands-on presentation about XRay features. Sergio is Head of Solution Architecture for Xray. I meet him at ETC 2020 software testing conference.
Tech Stack
For online meetup, we used the Google Meet form Google Workspaces business starter plan. In the meeting, there was no recording option. Why? Because that plan does not support it. Why I thought that supports it? Because I did not know which plan do I have. For example, in my company Google Admin Console, I have this: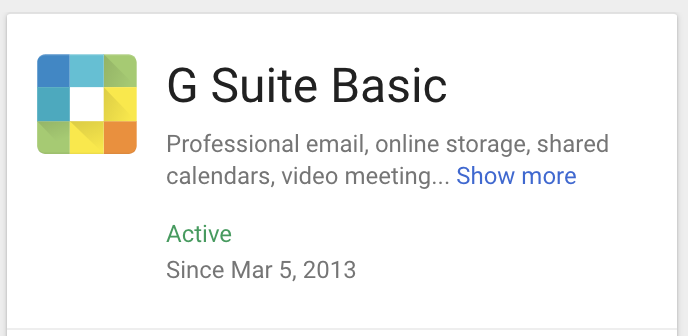 After some Google searching, I found out that this is now the Business Starter Plan. Do we have a problem here?
Leveraging the power of your testing with Xray – Sérgio Freire, Head of Solution Architecture – Xray
To help us understand how XRay could be valuable in our company testing context, Sergio gave a nice overview of what he finds in companies that use Xray as software testing approaches:
scripted
automated
exploratory
I like this classification because it does not mention the manual. Scripted testing would be manual that follows scripted test case instructions. The exploratory testing approach is where we uncover unknowns about the application under test.
Simply put, XRay is a test management tool for Jira. It helps you to automatically put those three testing approach efforts into the Jira. Xray supports many testing frameworks through API. In the end, you get a report about how your requirements are covered with tests.
What Are Requirements?
Requirements are well known Jira artifacts:
Demo
Sergio gave a demo where the application under test was a Calculator. There were all supported tests:
If you are using JIRA and need a test management solution, XRay is definitely an option that you should try.
Lighting Talk
I presented TestCraftCamp, an online open sessions format conference, and why you should attend.
Conclusion
We decided to abandon future breaks between talks because participants left the meetup during those pauses. It also breaks meetup flow.
Testival #61 online edition already has both talk slots reserved, and it is scheduled for 9.2.2021.